Team & culture
International culture as an eternal focal point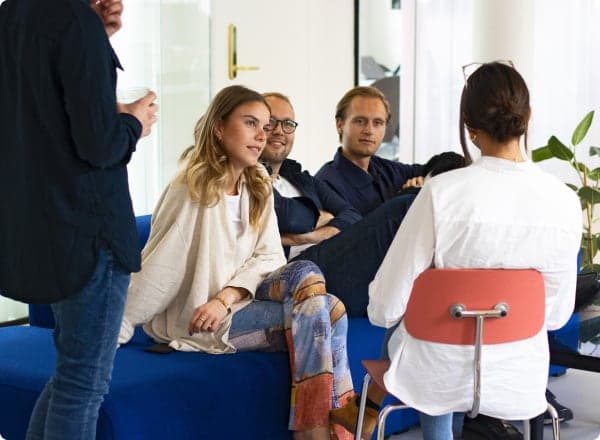 Agile teams
We strive not only to be the best marketing agency in the Nordics. We also work every day to make tomorrow even better for each other as colleagues, by having an agile organizational structure based on autonomy and self-determination.
Bonzer is built around self-leading teams that independently handle and work with customers through tailored SEO strategies.
Our principles
The foundation for our culture and cooperation
For us, it is important that we all work according to the same principles. When our foundation is the same, we can unfold creatively in all the directions we want.
Team
We work from an anti-ego mindset, which means that we always seek to prioritize our team and its interests, before ourselves.
Responsibility
As an agile company, we do not work with control, but trust. We use our common sense and behave responsibly at all conceivable times.
Kindness
We are always kind to each other. We show respect for each other's person and professionalism and give each other the recognition that we ourselves wish to receive.
Help where you can
We run into problems daily where we do not have the solution ourselves. Ask for help whenever you need it - and give it when you can.
Have fun!
We cannot complete our principles if we do not have fun while doing it. So let's have fun while we work - even when times are tough.
Performance
As a company, we need to earn money to survive and grow. By working effectively and focusing on performance, it will benefit us all in the form of pay increases, cooler offices, better events, etc.
The team
Meet the team
We are a versatile team of the most skilled specialists in the industry, who ensure every day that our customers get the organic growth they deserve.
Bonzer originated in Denmark in 2017 from the idea that we wanted and could do better SEO than the Danish agencies that were leading in the SEO field at the time. The years have passed, we have taken over Sweden and Norway, and with now hundreds of successful SEO strategies and customer collaborations later, we have proven our worth.
But we are far from finished showing that worth. There are still many skilled, ambitious companies that we have not yet had the honor of collaborating with and creating ambitious SEO strategies for through our philosophy. These are the companies that we want to meet and strengthen through visibility at the top of Google's search results.